Brand
Global Solutions for People, Programs and Processes
The Versar Brand
In addition to our Versar brand, we offer clients services from our companies that reflect our unwavering commitment to Quality, Safety and Best Value ensures the highest returns for our Clients, Shareholders and Employees.
With over 50 years of management success, Versar is among the most storied organizations in the environmental and construction industries.

Versar Security Systems, LLC is a unique and dynamic group of dedicated security professionals with depth and expertise supporting the physical security needs of federal government and DoD customers. We offer specialized expertise designing and implementing integrated security solutions under national program vehicles.
Our Program Managers, Licensed Professional Engineers, Certified Protection Professionals, Security Specialists and site Project Managers are considered to be among the best in the industry.
Many have extensive Department of Defense and law enforcement organization backgrounds. They have extensive experience in managing security risks, and planning and conducting comprehensive threat and vulnerability assessments. Many have the appropriate clearances necessary for the agencies we serve.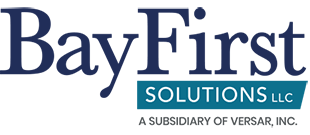 BayFirst Solutions, LLC is a program management and engineering firm specializing in national security and defense, helping government clients implement programs that protect public safety and enhance homeland security initiatives. Founded in 2002 and headquartered in Washington, D.C., BayFirst has an award-winning history supporting customers with core capabilities that include:
Network Engineering
Agile Software Development, Testing & Quality Assurance
Cybersecurity & Information Assurance
Intelligence & Analytics
Program & Acquisition Management
Engineering & Logistics.
Visit Website
Download Capabilities